About Us
Over 20 years interpreting for the private sector and government offices
Your Sworn and Authorised Interpreter & Translator
My Story
Roland Lawrence was born in Benin City, Edo State in Nigeria. He grew up there with the languages Edo (Bini), Pidgin and English. He attended primary and secondary school there before he came to Germany at the age of 26.
In Germany, Roland took German language courses up to intermediate level and then did his basic commercial training. After his apprenticeship, he worked as a buyer in an electrical components wholesale company in Düsseldorf and also took evening lectures in business administration at a Business School in Neuss.
Even during his language courses and training, Rowland interpreted for the private sector, government offices and authorities. His interest in interpreting and translation was strengthened by his communication with suppliers and customers from many nations, within the context of his activities as a buyer. He later made interpreting and translating his main profession as time progressed and was then sworn in and authorised by the Higher Regional Court of Düsseldorf as a translator and interpreter for the Edo (Bini) and English languages.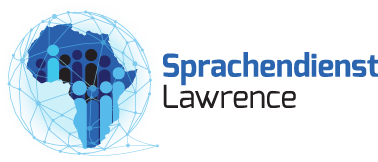 Sworn in and authorised by the Higher Regional Court of Düsseldorf
Angaben gemäß § 5 TMG:
Roland LAWRENCE
Business economist, interpreter and translator
Betriebswirt, Dolmetscher und Übersetzer
Trockenpützstraße 35
41472 Neuss
Tel: +49 (0) 2131 202 6619
Fax: +49 (0) 2131 202 6623
Mobile: +49 (0) 172 275 1757
Email: info@sprachendienstlawrence.com
©2023 Sprachendienst Lawrence. All Rights Reserved.